Following my passion for a portfolio career combining optometry and art – By Tej Kahlon
"You'll never make it in this competitive industry. You're brown and you're a girl. Anyway, no-one wants real paintings anymore because computers can generate images from photos. My best advice is to look at other careers."
The above words are forever imprinted on my mind. They were spoken by a well-wishing employee at a graphic design company where I was on a work experience placement as a 15-year-old.
My first love was art. Ever since I was young, I loved to draw. Throughout secondary (high) school my drawing improved with encouragement from my art teacher who told me that I had a special talent. I had books full of portrait sketches as drawing faces always appealed to me.
Being the eldest daughter of Indian immigrants who came from East Africa to settle in London in the '70s, there were certain expectations. As with many immigrants of that time, my parents had to work hard to establish themselves. Education was, and still is, seen as a way to a better life.
Although I was lucky enough to have parents who encouraged me to follow my passion for art, at the time I felt like the South Asian community discouraged a creative career. I was often asked, "What kind of job can you get with that?"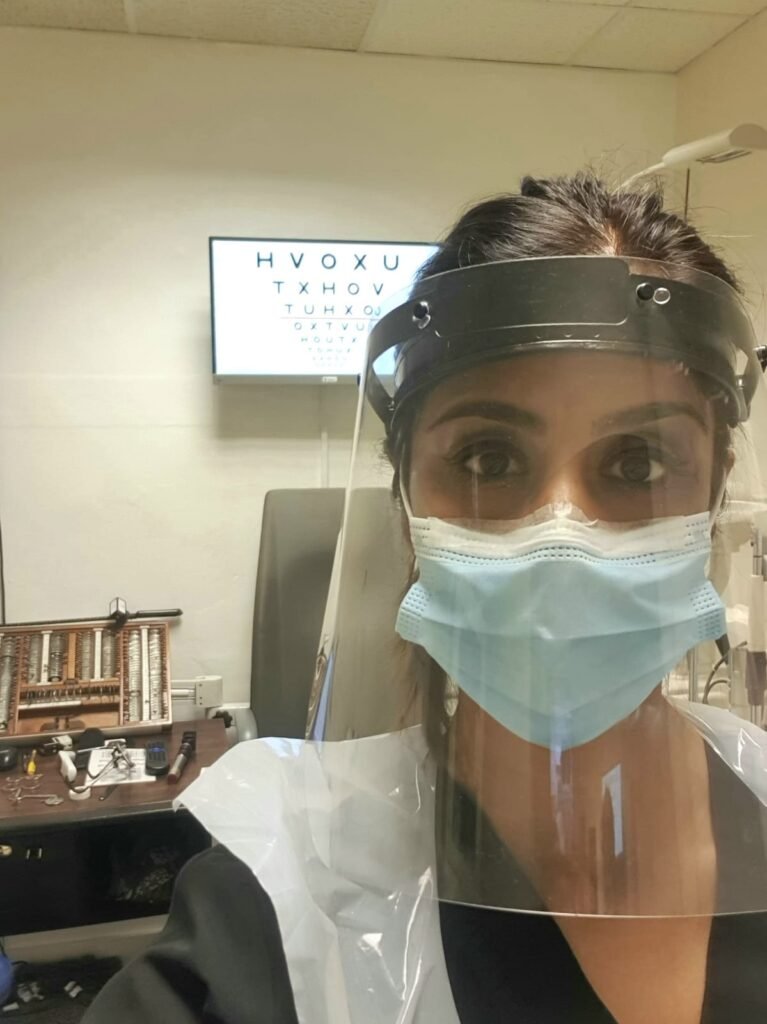 Choosing science

After my work experience placement I thoughtfully redirected my energies away from art when choosing my A-level subjects. Fortunately, I was always fond of and excelled in the sciences and was happy to go in that direction.
While my love for art was well established and I knew it would never fade over time. It was an interest that I would cultivate in my spare time.
Job security was very important to me and I knew I wanted a career which was stable and flexible allowing me to eventually start a family of my own.
In 2002, I qualified as an optometrist. It became my sole focus and passion leading me to complete a Masters in Optometry. I then enthusiastically took on a specialist role at a hospital and at a teaching institution, which I still enjoy today.
The next few years were a whirlwind which included volunteering abroad, meeting my husband, traveling, and settling down to have children.
Drawing a route to art

A few events around the time of a recent milestone birthday, which coincided with my youngest starting school, provided me with the chance to pursue art once more. I took inspiration from a local artist who was formerly a psychologist but is now retired.
She believed practicing both art and psychology was essential to maintain balance and good psychological health. Studies show drawing reduces stress, allowing us to cope more effectively with life's pressures.
This is something I have experienced. During an art session, I am often lost in composing a portrait. I find my flow-state, which can also be described as a mindful practice. For me time stands still, as I become an instrument of this magic.
After some encouragement from loved ones I started sharing my artwork on social media. This quickly led to my first portrait commissions. My portraits often combine the past and present, reuniting family members from different generations who can sadly never meet due to death or other circumstances.
It's exciting to consider the possibility that one day my painting may become a cherished heirloom, providing deep meaning for future generations.
The pandemic lockdowns allowed me to spend more time on my artwork. In recent times I have enjoyed participating in the online Sky Arts channel TV show, Portrait Artist of the Week, where I was able to paint a celebrity sitter alongside over 1500 other artists.
I have also provided free portraits as part of the Portraits for NHS Heroes, an initiative started by Tom Croft.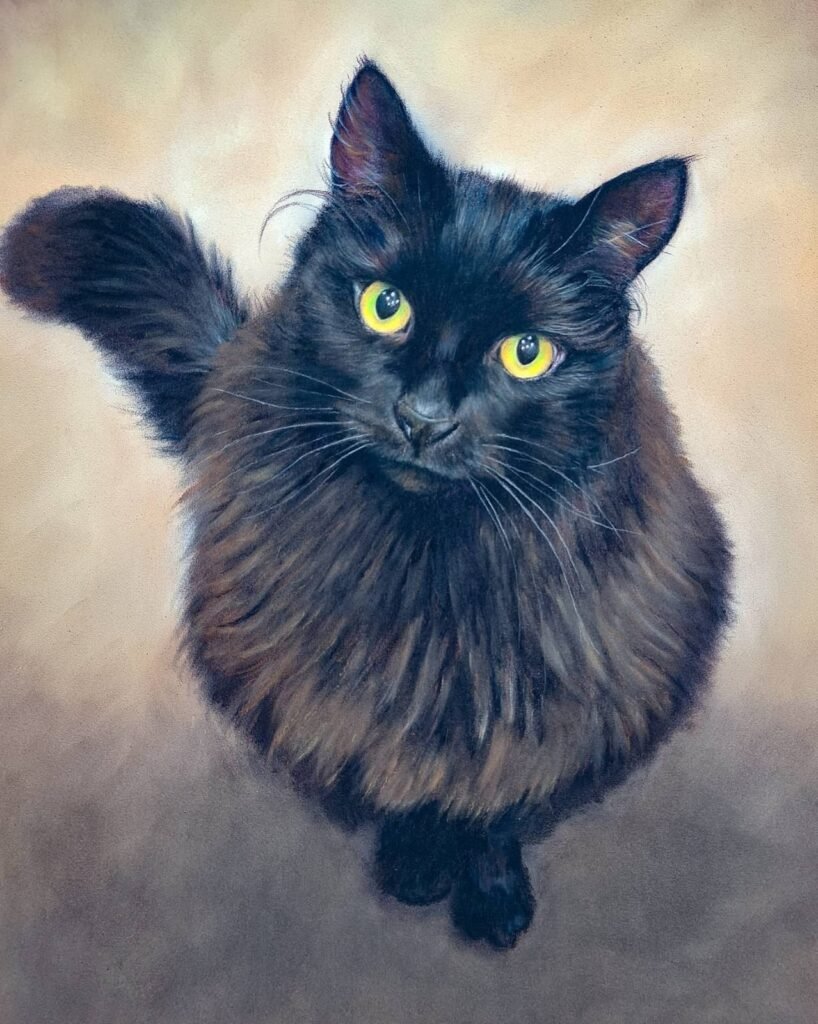 Combining art and science

There are many commonalities between a portrait artist and optometrist as both require similar skill sets. The most obvious one is that they are both very visual disciplines.
Observational skills are a key element in clinical optometry and art. My in-depth study of light, vision and the ocular organs have given me scientific knowledge.
I use this to understand how to use the poetry of light on form to reveal the subtleties of the human face. My portraits use light, shadow and colour to reveal a client's character in the style of realism.
Another similarity is the relationship aspect. Being an optometrist requires excellent patient communication skills. I have to ensure that the patient understands my diagnosis and feels at ease during the eye examination.
One of the most important aspects of being a portrait artist is the ability to connect with your client. I endeavour to build a relationship that will really help me understand what the client's vision is and to create a portrait with a true likeness of the subject.
I have been asked, why I don't pursue art full time as I`m receiving so many commissions. Sometimes, it can feel like I am already a full-time artist but I would never leave optometry. I have worked so hard to get to where I am now and I am still very passionate about optometry, current scientific vision related research and love the interaction with patients and colleagues.
My art is a creative outlet and has also given me the flexibility to spend more time with my children. Optometry has provided career stability, allowing me to explore my scientific side.
Both of my passions complement each other as these strange 'covid' times have made us all adapt to working in different ways. Portfolio careers have been long established in the medical profession, where doctors work as lecturers and medicolegally.
Why shouldn't portfolio careers apply to other professions too? Some do it seeking a better work/life balance, while others do it to use multiple skill sets.
What do my parents and the local South Asian community make of where I am now? They're proud but as I have got older I have gained the confidence to pursue my passions.
Times have changed and so have people's attitudes. There are still obstacles and barriers to entry when it comes to careers in the arts for many young South Asian girls. However, I do believe that things will continue to improve.
Now there are many South Asian role models to provide inspiration for a creative career. I hope my journey can motivate my daughters and others to see that they too can realise their dreams.
From my point of view, I believe that portfolio careers are the next frontier for society to accept. The 9 to 5, Monday to Friday, working in one set place of an office or surgery, lifestyle is ending. If not, at least I've finally figured out how to use Instagram.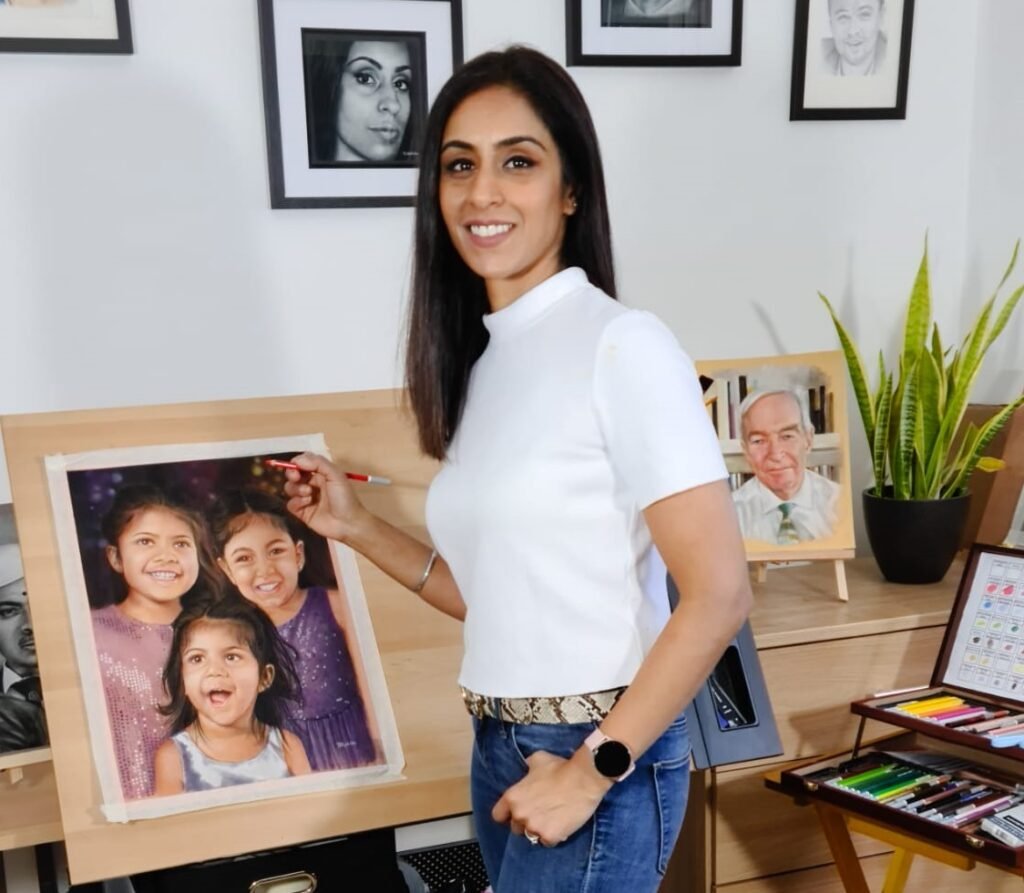 By Tej Kahlon for the Global Indian Series
You can find out more about at www.tejkahlon.com Www.instagram.com/tej_kahlon_art Www.facebook.com/tejkahlonart
If you like this, we recommend you read this –
Choose Art (globalindianseries.com)
Recommended Podcasts: Incredible female creatives
FROM FOLK MUSIC TO CHANGING TIDES OF INDIANNESS WITH ILA ARUN PART2 (globalindianseries.com)
THE 10 YEAR GAMBLE OF A DOCUMENTARY MAKER – MADE IN CANADA (globalindianseries.com)


2 responses to "OPTOMETRY AND ART – A PASSION IN BOTH WORLDS"
Other Podcasts you may like