Meeting with the Global Indian changing the face of European education Daniel Traca – Nova Business School.
It's not often that I find myself standing at the cusp of genuine academic disruption or in fact wishing to start business school all over again. But a short 45-minute journey from the heart of Lisbon city, and you will be astonished by a world that I believe will be the impetus for a global change in the educational system; the lessons learned here could be a game-changer for Global Indians. Nestled equally amongst beautiful scenery and a golden coast of glistening blue waves and sandy beaches, you will find a James Bond structure ushering from its grounds.
STATE OF THE ART- MIND AND BUILDING-
A state of the art privately funded $50million investment that not only talks the talk of a new era in educational excellence but also parades it down the business runway with a proven track record of success. Through its high-tech and light-filled rooms, I had the opportunity to meet with the famous Portuguese mind – Daniel Traca, a global Indian himself, visiting Professor at INSEAD (France and Singapore), former World Bank and European Commission consultant, and of course alumni of the dynamic Nova Business School which he is now Dean of. Daniel takes me for a tour of the "real world" driven university grounds and leads me through a remarkable journey where I witness images that are more in keeping with the tech halls of Google than something I would consider to be your stereotypical university.
"real world" driven university grounds and leads me through a remarkable journey where I witness images that are more in keeping with the tech halls of Google than something I would consider to be your stereotypical university.
But the deliberate shift in design is something far more enriching than mere architecture. Every element of this university screams positive distribution and intended progress. Nova SBE and Daniel for that matter, are highly unique; the school embodies a new and much-needed light in educational change and do not just take my word for it. What is immediately striking is the practical pursuit of excellence and unwavering discipline its students have in providing a real-life environment that incubates future leaders and mindsets.
A DEAN THAT MAKES YOU BELIEVE-
Nothing is more convincing of this than when Daniel stops mid-tour to congratulate one of his thousands of students by name who happens to pass by after completing the much-coveted 24 hour Hackathon in which he came second. It seems from our in-depth conversations that there is a genuine desire to not only be part of, but to shape the frontiers between business and international relations. There is undoubtedly a foresight that is being actively engaged upon – to future-proof the careers for his students.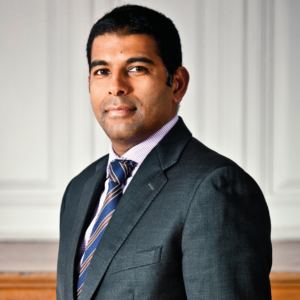 Again it does not just talk; through the modern lecture theatres, you see the symbolism of future-proofing individual capabilities whilst actively brainstorming on solutions to the challenges of companies, society and the world at large. It would come as no surprise then to also learn Nova SBE is one of the leading establishments in Europe and features next to its famous UK and US rivals with the added price advantage. And with over 40% of international students, it truly is a worldwide experience. I could go on, but the reality is that for any student who is looking at higher education abroad in the fields of business and tech, Nova SBE is a leading choice.
MY VERDICT
Verdict: The area that I personally see Global India benefiting from is via the highly selective Masters Program at Nova. Not only is it part of the Bolognia process, but the introduction of digital business and data analytics also enables the program to be further real-world applicable. A word of warning, despite its cost-effective tuition fees, the university is highly selective and the initial exams can be difficult for the uninitiated! 
Are you a student looking for European educational options? Contact – rajan@globalindianseries.com and let our team help
If you are interested in Portugal – check out our Podcast with Chitra Stern – The Global Indian rebuilding Lisbon – 
-------------------------------
Support change: A little favour to ask-We believe true freedom is to be able to act without fear or favour and that identity is not a "brand" to be abused, politicized, or reduced for personal gain. As Global Indians, the need to work together is greater now than ever before. If we want to see real change, we need to create a better society for all, tackle injustice and plunge into the many aspects of what the human experience truly offers.The Global Indian Series has been built to be a platform of integrity, fairness and to remain fiercely independent of political influence. We are the first in the world to connect with every echelon of society with all human voices being treated equally. We are the first to have travelled physically to locations far and wide, often putting our own lives on the line to bring forward stories that deserve to be told. Whether it's through our Podcast that delves into the human experience behind identity, our articles and features that cover key events we need to know, or live based events that tackle topical discussions, we have been there to support a better community and planet.Despite the high costs and time needed to maintain our work, we continue, because we know our work has helped more people understand what is happening within the communities across our planet, why it matters, and how, together, we can demand progress. We challenge head-on, the silent divisions that have crept into our collective consciousness and how to tackle key issues that often go neglected in mainstream media.How you can help:Please share our work: By collaborating with others who share our values, our combined voices make change, with many more becoming inspired to take meaningful action.Subscribe to the platform:Many from across our community have decided to subscribe to our platform. It helps us grow which in turns attracts like-minded supporters. If you have not already, we would appreciate you subscribing to our newsletters and following our social media accounts. It is free and supports our journey.